We ask that our buyers do their research.
Not every type of dog is for everyone, dobe puppies can be very active and inquisitive, they require lots of human interaction & play time and do not do well when left alone for long periods of time. They WILL find ways to get your attention, there are many web sites on the internet that offer excellent information on the breed,

as well as the DPCC website.

We recommand that our puppy buyers have a fenced in yard that is secure where your new puppy

can get adequate exercise along with room to play outdoors .


We encourage our buyers to invest the time to take your puppy to obedience classes.

We ask that our buyers keep in contact with us. We love updates on how our puppies have grown up.

We encourge you to call us if you ever have questions about your new puppy or it's family history.


We believe in minimally vaccinating our dogs. Please visit

Dr Jean Dodds Vaccination Schedule.

The link will open a printable Document format

The parents will be heath tested prior to this breeding &

All puppies will be cropped & docked prior to leaving for the new homes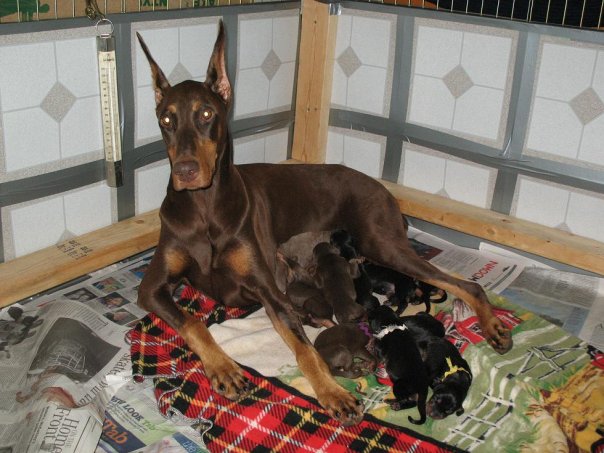 .
We guarantee all puppies to be healthy when they leave our home.
If a puppy should fall ill due to a genetic defect within 24 months after the purchase, it will be replaced free of charge with another puppy.
This will be done if/ when a veterinarian attributes death to be a genetic deformity in an autopsy & sends the findings to us.
The necropsy shall be at the owners expense. This is to assure not only ourselves but our puppy people that they are receiving a healthy puppy.
.
All show prospect puppies will be placed on a Co-Ownership contract .
All pet companion pups will be spayed/neutered after the age of 24 months AND placed on a Non-Breeding contract.
(this includes performance prospects as well)


ALL puppies will be cropped & docked.

Puppies will be sold for $3200 with a required holding fee of $1000 to reserve set puppy.
No puppy will be reserved without set fee. All fees are not refundable.
For more info please contact us at danen.gallant@rogers.com
WE DO NOT SELL ANY UNCROPPED PUPPIES - ABSOLUTELY NO EXCEPTIONS